MONEYVAL Assessment of the Bailiwick's Anti-Money Laundering and Combating the Financing of Terrorism Controls
15th January 2016
On 15 January 2016 the Council of Europe Committee of Experts on the Evaluation of Anti-Money Laundering Measures and the Financing of Terrorism (MONEYVAL) issued its report on the Fourth Assessment on the Bailiwick of Guernsey's Anti-Money Laundering and Combating the Financing of Terrorism controls.
The report shows that Guernsey has made major progress against the evolving international standards in these areas – and has surpassed the equivalent International Monetary Fund (IMF) report that assessed Guernsey in these areas back in 2010.  It also makes further recommendations for how Guernsey might further strengthen its system.

Headline findings from Guernsey's report include:
The Bailiwick has substantially strengthened the anti-money laundering and combatting the funding of terrorism preventive measures to which its financial institutions are subject.

The Bailiwick has in place a range of measures to facilitate various forms of international cooperation.

Competent authorities and financial institutions are highly competent, knowledgeable and aware of their obligations.

Cooperation and coordination between Bailiwick authorities is effective.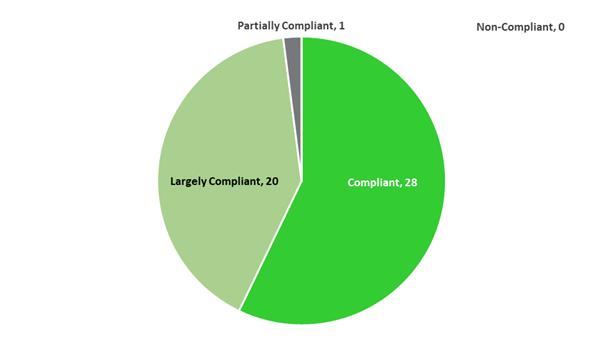 MONEYVAL reports examine the efficiency of measures taken to combat money laundering and the financing of terrorism in the legislative, financial regulatory, law enforcement and judicial sectors, with recommendations made to improve the domestic system to combat money laundering and the financing of terrorism.

As part of this it has looked at areas such as:
Legal systems and related institutional measures.

Preventive measures undertaken by financial institutions.

Preventive measures undertaken by designated non-financial businesses and professions.

Legal persons and arrangements, and non-profit organisations.

National and international cooperation.
William Mason, Director General of the Guernsey Financial Services Commission said:
"I would like to thank all those in Guernsey's financial services industry who gave their time freely to explain to MONEYVAL the high standards which they apply in their day to day work.  Without their efforts, it would have been far far harder to demonstrate to MONEYVAL how we implement robust measures against money laundering and terrorist financing in the Bailiwick.  

"I would also like to thank the financial crime team at the Commission and their colleagues at other authorities in the Bailiwick for their efforts throughout the preparation and aftermath of the MONEYVAL inspection.  We emerge from the inspection stronger with there being much more understanding of the Bailiwick in continental Europe as a result of the intense interaction with MONEYVAL inspectors from across Europe over the past two years."
The MONEYVAL documents are available for review using the following links: